Cant - A Gentleman's Guide
31st October 2013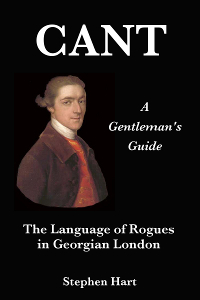 My new eBook is out!
It is a fairly lighthearted look at Thieves' Cant - the language of the criminal underworld - in Georgian London. There are chapters on:
Food
Drink
Money
Medicine
Gaming Hells
Crime
Beggars
Thieves
Death
Imprisonment
Sex
and much more
Hopefully, it will entertain as well as enlighten.
My thanks to all those people who kindly read the Beta version and gave be feedback - the book is much improved as a result.
Click here for more information about the book and where you can buy it.