Cant - a Gentleman's Guide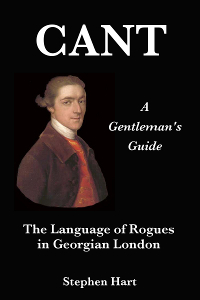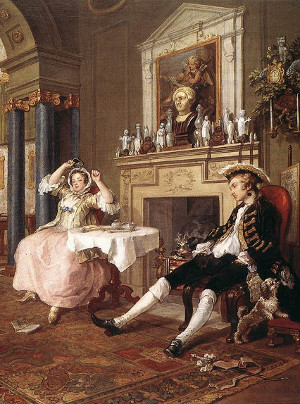 She: Darling, I thought the dimber mort and I might do the running smobble this darkmans
He: I really must get a copy of Cant - a Gentleman's Guide
Visiting the Underworld of Georgian London but not sure how to blend in?
Can't tell a clapperdogeon from a running smobbler?
Wouldn't recognise the upright man if he noped your costard with his filchman?
You need this book.
This fascinating guide will teach you all you need to know about the vocabulary of the Rogues of Georgian London and how to function in society at the lowest level.
Along the way you will acquire some much-needed information and advice on how to make false dice; how to pick pockets; how best to rob a man on a horse; and where to find a good cup of coffee at 3:00am in the morning.
An invaluable resource for any gentleman.
Print Format
Available for US$8.99/£5.99 from
eBook Format
Available for US$2.99/£1.88 from
Disclaimer: the MOBI format used by Amazon does not handle tables very well so, depending on your device, you may see some oddly formatted vocabulary lists in that version. This problem does not occur with the EPUB version used by Kobo and iTunes.
Review Copies: if you would like a free eBook review copy, email me via stephen at pascalbonenfant.com telling me what format you prefer.
What the Reviewers are saying
From amazon.com:
Transcends linguistics and history and offers a hilarious, page-turning trek
A great book for historical fiction writers, for historians, or just for people who love language
From amazon.co.uk:
An invaluable reference for both experienced authors and budding writers alike. If you a not of this group you will still find it a superb and interesting read that will keep you engaged for hours.
Charming, funny and interesting
Author's Notes
I started reading about thieves' cant when researching my novel, The Unfortunate Deaths of Jonathan Wild set in 1724-1725. Jonathan Wild was the crime boss of London in the first half of the 1720s and a knowledge of the language was absolutely necessary.
But then I got sucked into the 18th century in general. It is a fascinating period, spanning as it does the Industrial Revolution and the consequent social upheavals. When I decided to write the Gentleman's Guide I could not resist sharing some of the more interesting bits along with the language itself.
If you are looking for a serious academic work, this is not it. I hope, however, that my reader will enjoy the read and come away with some interesting and fun bits of knowledge about the lower end of society in Georgian London.