18th Century and Regency Thieves' Cant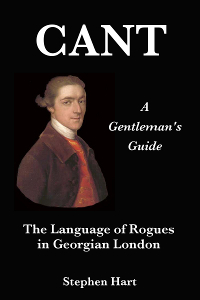 Check out my Canting eBook
Strictly speaking, a distinction should be made between general slang terms and terms only used by the London underworld. These distinctions are hard to make and I will leave it to the experts. Since thieves would also use general slang it is not unreasonable to regard the whole as the way thieves would have spoken.
I have divided the terms up into fairly arbitrary subject categories (see the menu on the left). I am happy to receive feedback on how this might be better done.
A quick note that my book Cant: A Gentleman's Guide is available in both print and ebook format. Click on the cover image on the right for more details.
If you would like a free ebook copy for review, email me via stephen at pascalbonenfant.com and let me know your preferred format (MOBI or ePUB).
I have used three sources:
Collection of Canting Words
from Nathan Bailey's 1737
The New Canting Dictionary
and the 1811
Lexicon Balatronicum
based on Francis Grose's
Dictionary of the Vulgar Tongue
and the glossary from the
Memoirs of James Hardy Vaux
, published in 1819.. I have included a fuller
discussion of canting sources
on a separate page.

I have put both dictionaries into a Cant Database Search facility. This has the complete (or nearly complete) contents of both Bailey and The Lexicon but a lot of the 1811 ones will appear in the "Uncategorised" category. I am getting them categorised but it is a slow, manual process.
Listed by Category
I have also added some categorised pages. These are mostly complete for Bailey and Vaux but much of The Lexicon is still not in there. Pages are:
| | |
| --- | --- |
| Animals | Birds : Cats and Dogs : Cattle : Horses : Other Animals : Pigs : Related Terms : Sheep : Vermin |
| Body | Body : Buttocks : Ears : Excrement : Eyes : Face : Genitalia : Hair : Head : Limbs : Mouth : Neck : Nose : Related Terms : Teeth : Tongue |
| Clothing | Breeches : Coats and Cloaks : Gloves and Rings : Handkerchiefs : Hats : Other Clothing : Pockets : Related Terms : Shirts, Shifts and Petticoats : Shoes and Stockings : Waistcoats : Wigs |
| Crime | Burglary : Cheats and Tricks : Other Crimes : Places : Related Terms : Thieving in General |
| Death | Death : Hanging : Related Terms |
| Disease | Disease : Vomiting |
| Entertainment | Dice Games : Gaming : Plays and Operas : Related Terms : Sports : Tricks and Cheats |
| Food and Drink | Ale, Beer and Porter : Brandy and Gin : Drink Containers : Drink in General : Drink Measures : Drinkers and Drunkards : Drinking Places : Drunk : Food : Mixed Drinks : Non-alcoholic Drink : Other Alcoholic Drink : Other Drinking Terms : Related Terms : Tobacco : Wine |
| Household | Bedrooms and Chambers : Cups and Bowls : Household Building : Jewellery, Trinkets and Watches : Miscellaneous : Related Terms : Tools and Candlesticks |
| Men | Big and Small : Clever and Sly : Clumsy, Stupid and Foolish : Fat and Thin : Fighters, Bullies and Cowards : Hard and Soft : Husbands and Wives : Important : Insult/Negative Description : Lovers and Lechers : Men in General : Old, Young and Novice : Physical Descriptions : Poor and Ragged : Praise/Positive Description : Related Terms |
| Misc | Clubs and Societies : Documents : Greetings : Happy and Sad : Houses and Shops : Lies : Miscellaneous : Miscellaneous Adjectives : Miscellaneous Terms : Things : Time : Weather : Whimsies |
| Verbs | Run : Verbs |
| Money | Coinage : General Terms for Money : Good Money and Bad : Other Money Terms : Pecuniary Status : Related Terms : Silver and Gold : Special Payments |
| Occupations | Bailiffs, Beadles and Constables : Coachmen and Waggoners : Doctors and Midwives : Inn-keepers and Vintners : Judges and Law-enforcers : Lawyers : Musicians, Entertainers and Dancing Masters : Other Occupations : Priests and Parsons : Related Terms : Scholars and Teachers : Servants : Soldiers : Tailors : Tradesmen and Shopkeepers : Youngsters |
| People | General Descriptions of People : People of Various Types |
| Places | Places : Prisons and Imprisonment : Travel |
| Punishment | Branding : Fetters : Pillory : Prisons and Imprisonment : Related Terms : Transportation : Whipping |
| Religion | Children : Marriage : Religion |
| Rogues | Animal Specialists : Beggars : Beginners, Bunglers and Low Lifes : Cheats and Sharpers : Counterfeiters and Coiners : Cutpurses and Pickpockets : Gypsies and Pirates : Highwaymen and Footpads : Housebreakers : Leaders : Murderers : Other Specialists : Other Terms : Perjurers : Receivers : Related Terms : Rogues in General : Tools of the Trade : Youngsters |
| Sex | Brothels : Madams and Pimps : Prostitutes : Related Terms : Sex |
| Speech | Cant : General : Puns, Quibbles and Whimsies : Quiet |
| Transport | Carriages and Carts : Ships |
| Violence | Violence : Weapons |
| Women | Insult/Negative Description : Physical Descriptions : Praise/Positive Description : Related Terms : Wives and Widows : Women in General |